"Great, those little plastic boats, but they won't solve the plastic problem of course.". We often hear this. But is this really true?
We do hear it from people. "How can these little boats even come close to being a solution?" We get the thought. But we disagree. Because despite their scale, they are crucial in solving bigger challenges.
Take the Dutch werkboot: the mini of the waste plastic fleet in the making. It was a "work" boat, the boat of boats in its days. An indispensable little vessel, because every seagoing ship had at least one on board to land at shore and load and unload merchandise.
The workboat is not without reason one of the most popular and most frequently built boats in Dutch maritime history. A little ship with an insane cultural value. So great, in fact, that the Dutch werkboot should be included in the canon of Dutch history. Not our words, but words that Gerald de Weerdt spoke in an interview with news station NH Nieuws when he visited our first werkboot. Gerald is a ship archaeologist and spent more than 20 years researching historic shipbuilding from that era. So if anyone may conclude this, it's him.
So just look at how important those boats were back then. And: how important they still are today. Because these little ships have taught us so incredibly much!
1. We learn all about processing waste plastic
Libraries have been written about the processing of wood. About the processing of recycled waste plastic … not so much. And certainly not about building objects like a 17th-century boat. By now we have gained a lot of knowledge about waste plastic as a building material. About using and crafting it by hand, but also with modern tools such as a welder or extruder. Information we are happy to share with everyone, even if you are building something other than a boat. So come and collect it!
2. Waste plastic is more applicable than we thought
We also learned a lot about the strength of the material and amazed ourselves and others. Before we built the first Dutch werkboot (the Lankhorst), many people feared it would be a flimsy cloth. Including us. But guess what: the construction of the boat turned out to compensate for the flabbiness of the material just fine! We rejected our assumption by simply getting started and being open to new discoveries.
3. The werkboot provides personal growth
With workboat number two, the Schelphoek, we conducted an experiment together with partner organization WerkSaam Westfriesland: building boats with people distanced from the labor market. We started with a group of young people and status holders and the boat building turned out to be an excellent reintegration activity as an intermediate step to work or study. A simple experiment, but we realized that this had a great social impact on the personal development of the builders.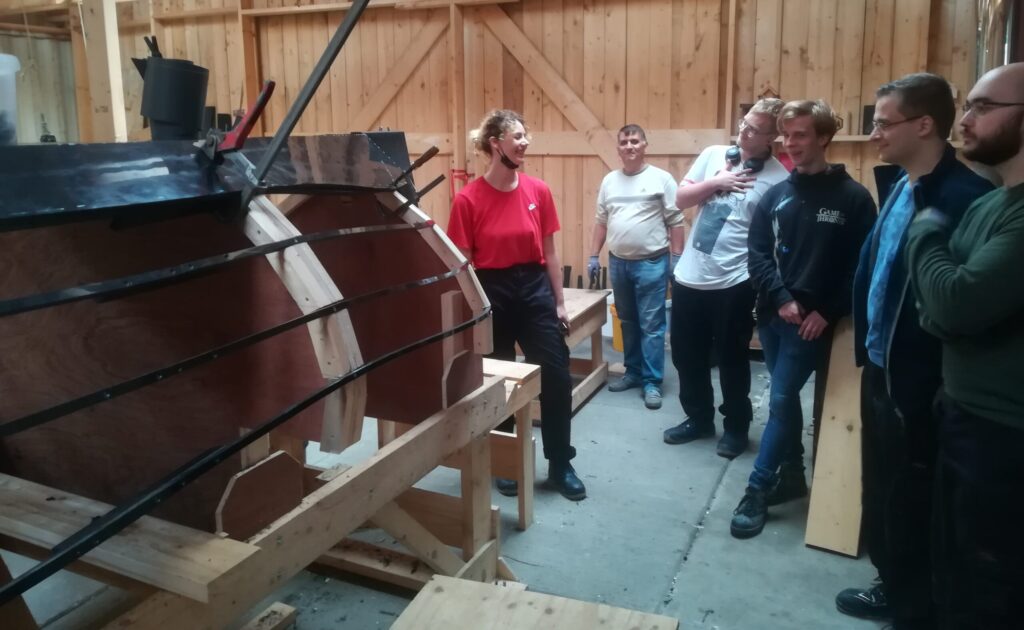 4. Every new boat is a new experiment
We are building these ships to become the first fully circular and inclusive shipping company in the Netherlands. But although from a distance it may look like pure production to expand the fleet, it is more than that. For in every Dutch werkboot lies yet another new experiment.
Whereas the Schelphoek created a great social impact, the Karperkuil (number three) pushed us forward technologically. Together with Schermer Installatietechniek we built a bending oven, a piece of equipment that saves us about 30 days of manual labor per boat.
And the Koeman (number four) is again one of a kind. The bottom of the boat is in fact not made of HDPE this time, but of recycled LDPE. (The material from which, for example, plastic bags and foils are made.) Another experiment, because HDPE is even softer than HDPE. Would this also be sturdy enough in construction?
5. The unique lesson of 17th century shipbuilding
The traditional shipbuilding craft we practice is not just about pure manual labor and skills. What we learn from this ancient craft is the value of efficiency: a werkboot doesn't have to be beautiful to carry cargo. Or in the words of our ship historian Ab Hoving, "If it walks like a duck and quacks like a duck, it's a duck. So it is with these ships."
An important reminder. Because now that we are almost a year underway with the construction of the Koeman, there are numerous 'mistakes' in this boat, and the builders sometimes see it as a piece of junk, it will still be a wonderfully functional boat. It will soon do what it is supposed to do (float and sail), and those imperfections make it, above all, a boat of character.
The same goes for people. Many of the volunteers ended up in at our ship yard because they didn't live up to their own expectations. That something (or yourself) doesn't have to be perfect: when we know how to accept that, we all take a big step forward in life.
He who does not honor the small…
So no, the Dutch werkboot is not just any little boat. All the lessons we learn with the construction of these little ships, we take back into the construction of the Dutch speeljacht and the big Dutch fluitschip, the flagship of our clean, circular shipping company. That large thing is worth nothing without all those little steps, the knowledge we gain, the contacts we make and the experience and knowledge that comes from it. Or as an old Dutch goes: He who does not honor the small werkboot, does not deserve the big fluitschip.
Openingsbeeld door Kneedvorm